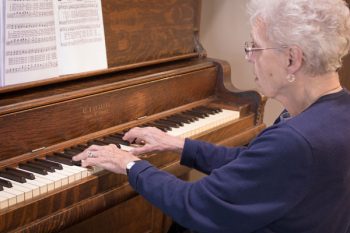 Here at Harbour View Assisted Living, we understand how emotional and important the selection of a senior living facility is. We focus on the uniqueness of each individual…considering past work and personal experiences that have helped shape them. These are some of the elements that make us who we are.
As you walk through the doors of Harbour View, you will find the home-style setting the perfect environment to reflect on the genuine Upper Peninsula hospitality that Harbour View is known for. The open dining room, spacious living overlooking Lake Superior and plenty of comfortable seating provides the backdrop for casual conversation and enjoyment.
Residents at Harbour View enjoy an engaging lifestyle with the availability of activities and events. Try an exercise class, play a game or listen to live music! We offer a host of activities to encourage socialization, easing the change of moving and establishing friendships in a new setting.
Our friendly and professional staff interacts daily with our residents and monitors their individual needs in a safe and comfortable atmosphere. Harbour View provides many services and we work with our residents and families to select the best level of personalized care. We communicate regularly so that we are able to provide the highest quality of personalized service, taking into consideration the changing needs of our residents.
Come and see why so many people have chosen to call Harbour View "Home." Visit us today to discover how we can enhance your life. Welcome…